Welcome to the Grimorum
The wiki all about the animated series Gargoyles that anyone can edit.
We have been editing 677 articles and 557 images since 2006

Warning: This wiki will contain spoilers!
FEATURED ARTICLE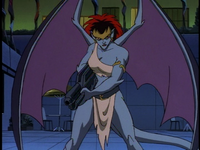 Demona is a gargoyle and perhaps one of the most dangerous beings on Earth. Her main goal in life is the complete annihilation of humanity and she has gone to extreme lengths to reach her objective. She uses science and sorcery, often in combination, and will ally with any gargoyle, Third Race or even human that she can use to wipe out any and all humans. Due to interactions with the Third Race and Macbeth she is immortal and becomes human during the day, an indignity she endures for its usefulness.
But beneath her tough facade, Demona is truly her own worst enemy. She is one of the few rogue gargoyles in the world, choosing to live apart from a gargoyle clan. She hides her loneliness and pushes her guilt unto others. Her actions have driven away those who would've been closest to her; Macbeth, her one-time closest ally, Goliath, who was once her mate and, most painfully, her biological daughter, Angela. (more...)
ABOUT GARGOYLES
This is a Wikia dedicated to being an exhaustive reference to the Gargoyles television series as produced by Disney as well as the official comics and additional Gargoyles material created and endorsed by series co-creator Greg Weisman.
Gargoyles was an acclaimed animated series that originally aired from October 24, 1994 to February 15, 1997 in the United States. It was at the time hailed as one of the more ambitious Disney animated series in history, targeting an older demographic and taking a darker edge. The show was also notable for its complex story, and character arcs that were heavily employed throughout the series.

The series followed a clan of warrior creatures known as gargoyles that turn to stone during the day. Led by their leader Goliath in the year 994 A.D., they protected Castle Wyvern and its resident humans on the coast of Scotland until betrayal caused a massacre of the clan and a magic spell forces the six survivors into stone sleep, until the castle rises above the clouds. In 1994, a billionaire named David Xanatos purchases the castle and moves it to the top of his Manhattan skyscraper, breaking the spell. Awakening in modern day Manhattan, the gargoyles must adapt to this new world as they vow to protect the citizens of New York.
The Gargoyles storyline was continued in a comic book also titled Gargoyles written by Greg Weisman and produced by Slave Labor Graphics . The comic has since been discontinued, but the loyal fanbase has kept the property alive in the decades following its cancellation, resulting in the entire first and second season becoming available on DVD.
FEATURED QUOTE
"I guess the corrupt are the first to believe that somebody else can be corrupted. And it's not impossible, none of us are perfect; that's why we need protection, even from ourselves sometimes."
— Elisa, Protection
WELCOME TO THE GRIMORUM
To write a new Grimorum article, enter the page title in the box below.
<createbox> buttonlabel=Create an article bgcolor=#f3f3ff </createbox>
Please note that there are two perspectives that articles should be written from:
In-Universe: All articles written about subjects that exist in the Gargoyles universe should be written as if written by an omniscient observer living in the same world as the Gargoyles.
Real World: Articles concerning subjects related to production, actors, etc., should be written from a real world perspective
EXTERNAL LINKS
ASK GREG
Greg Weisman answers questions from fans and provides his own insights into Gargoyles and other projects in which he's currently involved in.
Warning: The questions and answers featured on this website may contain content that is not appropriate for children.


Community content is available under
CC-BY-SA
unless otherwise noted.