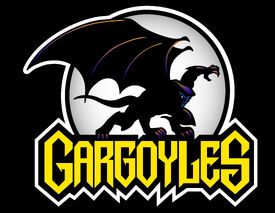 The Gargoyles Franchise is a series of work beginning with Disney's television series, Gargoyles.
History
In 1994, Disney began to air a show called Gargoyles. In 1995, Marvel Comics created a comic series based around the television show, Gargoyles. Marvel stopped production at issue 11 when it filed for bankruptcy. In January of 1996, Disney Interactive and Sega released a game, aptly titled Gargoyles, based loosely on the first season of the television series. In 1996, ABC created a sequel to Disney's Gargoyles, Gargoyles: The Goliath Chronicles, which brought about the end of all new Gargoyles media for about a decade. In 2006, SLG comics created a comic series, penned by creator, Greg Weisman, ignoring the Marvel Comics series, the video game, and the Goliath Chronicles.
Community content is available under
CC-BY-SA
unless otherwise noted.