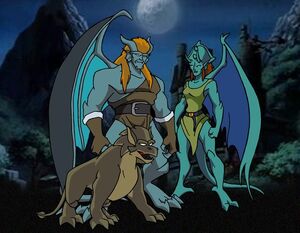 The
Avalon Clan
is a
gargoyle
clan that resides on the mythical Isle of
Avalon
, where an hour spent on the island equates to a day in the "real" world. It is notable that the clan includes three human members who protected the clan while still unhatched.
History
Much like the related Manhattan Clan, the Avalon Clan is an offshoot of a gargoyle clan from Castle Wyvern in Scotland. When the majority of the clan was destroyed by Vikings, the 36 gargoyle eggs in the rookery were taken away by four humans - Princess Katharine, the Magus, and the peasant woman Mary and her son Tom. The eggs remained protected by these humans and brought to Avalon (only Mary remained behind), where they remained and grew to adulthood. They were raised by the humans that had protected them as eggs, and were largely untouched by the outside world.
Tom, now the elderly Guardian of the Eggs, arrived in Manhattan searching for Goliath to see if he had been woken from his stone slumber, only to find himself arrested by officer Morgan after defeating some "lawless ruffians." Goliath, along with Elisa Maza and Bronx, traveled to Avalon and helped save the clan from attack by the Archmage.
Unlike traditional gargoyle clans, the Avalon Clan was raised by humans. Notably due to this is the fact that each member was given a name at birth, unlike most gargoyles, naming being a human custom. Katharine gave many of the gargoyles names with angelic themes; for example, Gabriel and Angela.
Known Members
Gargoyle Members
Angela (left to join the Manhattan Clan)
14 unnamed, female gargoyles
16 unnamed, male gargoyles
2 unnamed, gargoyle beasts
Human Members
Appearances
Season 1
Season 2
Season 3

  1. Awakening
  2. Awakening, Part Two
  3. Awakening, Part Three
  4. Awakening, Part Four
  5. Awakening, Part Five
  6. The Thrill of the Hunt
  7. Temptation
  8. Deadly Force
  9. Enter MacBeth
10. The Edge
11. Long Way to Morning
12. Her Brother's Keeper
13. Reawakening

  1. Leader of the Pack
  2. Metamorphosis
  3. Legion
  4. A Lighthouse in the Sea of Time
  5. The Mirror
  6. The Silver Falcon
  7. Eye of the Beholder
  8. Vows
  9. City of Stone, Part One
10. City of Stone, Part Two
11. City of Stone, Part Three
12. City of Stone, Part Four
13. High Noon

14. Outfoxed
15. The Price
16. Revelations
17. Double Jeopardy
18. Upgrade
19. Protection
20. The Cage
21. Avalon, Part One
22. Avalon, Part Two
23. Avalon, Part Three
24. Shadows of the Past *
25. Heritage
26. Monsters

27. Golem
28. Sanctuary
29. M.I.A.
30. Grief
31. Kingdom
32. The Hound of Ulster
33. Walkabout
34. Mark of the Panther
35. Pendragon
36. Eye of the Storm
37. The New Olympians
38. The Green
39. Sentinel

40. Bushido
41. Cloud Fathers
42. Ill Met By Moonlight
43. Future Tense
44. The Gathering, Part One *
45. The Gathering, Part Two
46. Vendettas
47. Turf
48. The Reckoning
49. Possession
50. Hunter's Moon, Part One
51. Hunter's Moon, Part Two
52. Hunter's Moon, Part Three

  1. The Journey
  2. Ransom
  3. Runaways
  4. Broadway Goes Hollywood
  5. A Bronx Tail
  6. The Dying Of The Light
  7. And Justice For All
  8. Genesis Undone
  9. Generations
10. ...For It May Come True
11. To Serve Mankind
12. Seeing Isn't Believing
13. Angels In The Night

SLG comic books

Gargoyles #1. Clan Building Chapter One: Nightwatch
Gargoyles #2. Clan Building Chapter Two: The Journey
Gargoyles #3. Clan Building Chapter Three: Invitation Only
Gargoyles #4. Clan Building Chapter Four: Masque
Gargoyles #5. Clan Building Chapter Five: Bash
Gargoyles #6. Clan Building Chapter Six: Reunion
Gargoyles #7. Clan Building Chapter Seven: The Rock
Gargoyles #8. Clan Building Chapter Eight: Rock & Roll
Gargoyles #9. Clan Building Chapter Nine: Rock of Ages
Gargoyles #10. Clan Building Chapter Ten: The Gate
Gargoyles #11. Clan Building Chapter Eleven: Tyrants
Gargoyles #12. Clan Building Chapter Twelve: Phoenix

Bad Guys #1. Strangers
Bad Guys #2. The Lost
Bad Guys #3. Estranged
Bad Guys #4. Louse
Bad Guys #5. Strangled
Bad Guys #6. Losers
*Shadows of the Past - mentioned
*The Gathering, Part I - mentioned
References
Community content is available under
CC-BY-SA
unless otherwise noted.