The Archmage was a powerful but arrogant and greedy magician. He taught both the Magus and Demona how to use magic, having once been a courtier at Castle Wyvern and he was the first person known to possess the spellbook called the Grimorum Arcanorum.
History
In 975, the Archmage sent Demona to steal the Phoenix Gate from Princess Elena, while he was still the premier spellcaster in service to Prince Malcolm. Though he did not act openly, he desired the Phoenix Gate to combine with his Grimorum Arcanorum and the Eye of Odin, which would give him ultimate power. In this instance, he failed to retrieve the Phoenix Gate.
The Archmage poisoned Prince Malcolm, the lord of Castle Wyvern in retaliation for his banishment. Three gargoyles, who would later be named Hudson, Goliath and Demona, tracked him to a cave where he had hidden himself in order to retrieve the antidote and save Prince Malcolm. During this encounter, he blinded the future-Hudson in one eye, then seemingly fell to his death when attempting to retrieve the Grimorum.
The Archmage became a far greater threat when he attacked Avalon. Apparently, he had survived his fall into the chasm by traveling back in time and saving himself. By manipulating events, and coercing the Weird Sisters to do his bidding, he managed to obtain the Grimorum Arcanorum, the Phoenix Gate and the Eye of Odin, granting him ultimate power as he had long wished. Using his powers, he rescued himself in the past and then arranged for himself to gain the three items, before his younger self set out to do the same in a predestination paradox.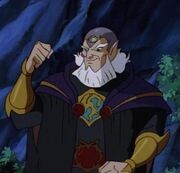 Having gained his new powers, he aimed to conquer the world, but was
informed by his future self the technological advances in the modern world would require him to have base of operations where his enemies could never touch him, Avalon, and thus he laid siege to it and attacked the Avalon Clan that lived there. However, he refused to destroy them immediately because he wanted revenge on Goliath and believed that he was invincible. His hubris allowed the Avalon Clan, with Goliath's help, to mount a counter-attack. Goliath managed to steal the Eye of Odin away from him, and without the Eye, he was unable to control the power of the Grimorum Arcanorum, having previously swallowed it in order to circumvent the law that the book could never enter Avalon, and it destroyed him, turning him to a pile of dust.
Appearances
Season 1
Season 2
Season 3

  1. Awakening
  2. Awakening, Part Two
  3. Awakening, Part Three
  4. Awakening, Part Four
  5. Awakening, Part Five
  6. The Thrill of the Hunt
  7. Temptation
  8. Deadly Force
  9. Enter MacBeth
10. The Edge
11. Long Way to Morning
12. Her Brother's Keeper
13. Reawakening

  1. Leader of the Pack
  2. Metamorphosis
  3. Legion
  4. A Lighthouse in the Sea of Time
  5. The Mirror
  6. The Silver Falcon
  7. Eye of the Beholder
  8. Vows
  9. City of Stone, Part One
10. City of Stone, Part Two
11. City of Stone, Part Three
12. City of Stone, Part Four
13. High Noon

14. Outfoxed
15. The Price
16. Revelations
17. Double Jeopardy
18. Upgrade
19. Protection
20. The Cage
21. Avalon, Part One
22. Avalon, Part Two
23. Avalon, Part Three
24. Shadows of the Past
25. Heritage
26. Monsters

27. Golem
28. Sanctuary
29. M.I.A.
30. Grief
31. Kingdom
32. The Hound of Ulster
33. Walkabout
34. Mark of the Panther
35. Pendragon
36. Eye of the Storm
37. The New Olympians
38. The Green
39. Sentinel

40. Bushido
41. Cloud Fathers
42. Ill Met By Moonlight
43. Future Tense
44. The Gathering, Part One
45. The Gathering, Part Two
46. Vendettas
47. Turf
48. The Reckoning
49. Possession
50. Hunter's Moon, Part One
51. Hunter's Moon, Part Two
52. Hunter's Moon, Part Three

  1. The Journey
  2. Ransom
  3. Runaways
  4. Broadway Goes Hollywood
  5. A Bronx Tail
  6. The Dying Of The Light
  7. And Justice For All
  8. Genesis Undone
  9. Generations
10. ...For It May Come True
11. To Serve Mankind
12. Seeing Isn't Believing
13. Angels In The Night

SLG comic books

Gargoyles #1. Clan Building Chapter One: Nightwatch
Gargoyles #2. Clan Building Chapter Two: The Journey
Gargoyles #3. Clan Building Chapter Three: Invitation Only
Gargoyles #4. Clan Building Chapter Four: Masque
Gargoyles #5. Clan Building Chapter Five: Bash
Gargoyles #6. Clan Building Chapter Six: Reunion
Gargoyles #7. Clan Building Chapter Seven: The Rock
Gargoyles #8. Clan Building Chapter Eight: Rock & Roll
Gargoyles #9. Clan Building Chapter Nine: Rock of Ages
Gargoyles #10. Clan Building Chapter Ten: The Gate
Gargoyles #11. Clan Building Chapter Eleven: Tyrants
Gargoyles #12. Clan Building Chapter Twelve: Phoenix

Bad Guys #1. Strangers
Bad Guys #2. The Lost
Bad Guys #3. Estranged
Bad Guys #4. Louse
Bad Guys #5. Strangled
Bad Guys #6. Losers
Community content is available under
CC-BY-SA
unless otherwise noted.